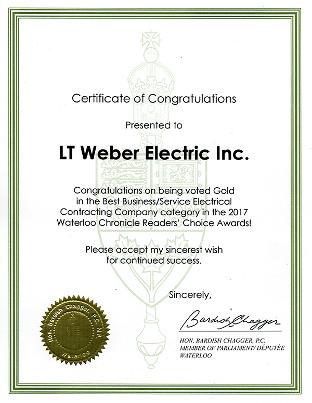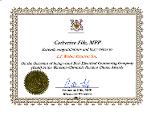 2017 Gold Winner
Waterloo Chronicle Readers Choice
Awards category of Best Business/Service
Electrical Contracting Company
as voted by the citizens of Waterloo Region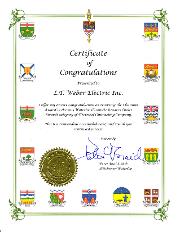 2015 Platinum Winner
Waterloo Chronicle Readers Choice
Awards category of Best Business/Service
Electrical Contracting Company
as voted by the citizens of Waterloo Region
2014 Gold Winner
Waterloo Chronicle Readers Choice
Awards category of Best Business/Service
Electrical Contracting Company
as voted by the citizens of Waterloo Region
"Great working with Lance. He was very efficient. The work was done well and cleaned up. Would not hesitate to call Lance again for electrical work. The price was reasonable (we compared with other electricians with good reviews on this site)." via HomeStars web review
"Lance does excellent work and is a true professional. I could not be happier with his work. He was very helpful in planning stages of project, as well, to guide me in what might look best. I highly recommend him." via HomeStars web review
"We have used LT Weber Electric for two jobs now at the dealership. A lot of contractors won't call or email back these days and even if they do, no one seems to be interest in smaller jobs. Lance contact us back right away and came to have a look at the job that afternoon! He took the time to explain our options and came back with good recommendation and reasonable quotes. Both jobs were completed in a quick and efficient manner with great workmanship. We look forward to doing business with them in the future."
KW Honda
"I recommend LT. Weber Electric to all my clients. Lance is honest, hardworking and competitively priced. His experience is anything but lacking, and I trust him completely." via Caldwell Banker Peter Benninger Realty
"Lance and his apprentice Dan did an excellent job on my house. Both were friendly and professional. The final price was right in the middle of the range that Lance told me it would be from the very start. Thanks for doing a great job! " via Google Review
"I'm very impressed with the service I received from LT Weber Electrics and specifically Lance! I had a complicated issue with my rental house and I was taken care of exceptionally and quickly. I would recommend LT Weber to anyone looking for reliable, quality electric services. Endless thanks LT!:)"