The High Cost of Losing Power
As a homeowner, protecting your home is always at the top of your mind. It is your biggest asset, and unpredictable power outages are a threat. They can lead to flooded basements, freezing pipes that may burst and even mold. These repairs can cost hundreds... even thousands of dollars to fix. Ensure your home always has power with a Generac home standby generator. It stands guard 24/7, making sure you have power when you need it the most.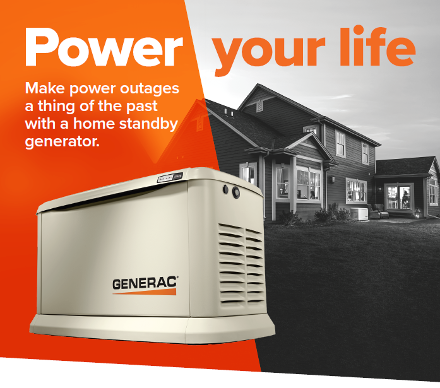 Trusted Protection During Unpredictable Weather
The frequency in severe weather has led to an increase in power outages. More than ever, you
need to be prepared. Without power, your everyday modern essentials are rendered useless.
Think about it, you'll have no lights, heating or cooling, or refrigeration. You can't even charge
your cell phone. But when you have a Generac home standby generator, you will have power
when you need it the most.
It's time to get serious about preparing your home.
HOW IT WORKS

If your power goes out, your generator comes
on – automatically.
The generator system consists of a generator
and transfer switch. The generator sits outside
of your
home or business just like a central air
conditioner, while the transfer switch is
located
next to the main breaker box, and in some cases
replaces it entirely.